We, Shanghai Metal Corporation, as a leading Copper capillary manufacturer adhere to the principle of "quality first, credit first, customer first", products. With preferential prices and perfect service, we sincerely welcome new and old friends at home and abroad to come to negotiate business.
Copper tube, also known as copper capillary, is often used in tap water pipes, heating and refrigeration pipes. As a mounting pipe, it has the advantages of hard texture, non-corrosion, high temperature resistance and high pressure resistance, and can be used in different environments. The copper capillary combines the advantages of metal and non-metal tubes, and is the leader in the hot and cold water system. The copper tube is refractory and heat resistant, retains its shape and strength at high temperatures, and does not age.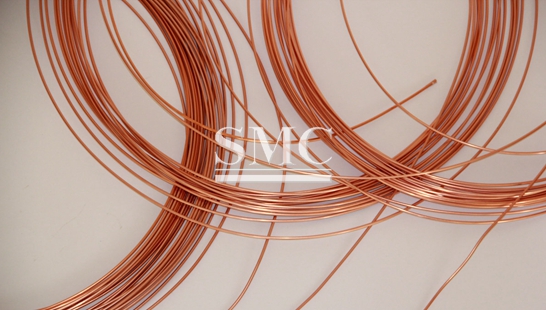 The pressure resistance of brass capillaries is several times or even several times that of plastic tubes and aluminum-plastic tubes. It can withstand the water pressure in today's buildings. In the hot water environment, the pressure capacity of the plastic pipe decreases remarkably with the extension of the service life, and the mechanical properties of the copper pipe remain unchanged in all the hot temperature ranges, so the pressure resistance is not reduced, nor There will be aging.
The linear expansion coefficient of the copper capillary is very small, which is 1/10 of the plastic tube, and does not cause stress fatigue cracking due to excessive thermal expansion and contraction.
Phosphorus copper tubes are highly safe. No leakage, no combustion, no toxic gases, corrosion resistance.

Because brass capillaries are easy to machine and connect, they save material and total cost during installation, provide excellent stability and reliability, and eliminate maintenance. Moreover, it is lighter for copper pipes of the same inner diameter, and the copper pipe does not require the thickness of ferrous metal. When installed, copper pipes are less expensive to transport, easier to maintain, and take up less space.
For our full list of products that we offer check out our website here. Be sure to join the conversation in our LinkedIn group, Facebook, Twitter .
Try also our WeChat by scanning the QR code below.
Shirley N.//SMC Editor

Guest contributors are welcome at the Alloy Wiki.It is a weekly wiki and guide on alloy information and processing technology, while also about the vast array of opportunities that are present in manufacturing. Our team of writers consists of a Machining Material Supplier / Machinist / Tool and Die Maker, a Biomedical Engineer / Product Development Engineer, a Job Development Coordinator / Adjunct Professor, and a President and CEO of a manufacturing facility.