A pressure vessel is a container designed to hold gases or liquids at a pressure substantially different from the ambient pressure.
The pressure differential is dangerous, and fatal accidents have occurred in the history of pressure vessel development and operation. Consequently, pressure vessel design, manufacture, and operation are regulated by engineering authorities backed by legislation. For these reasons, the definition of a pressure vessel varies from country to country, but involves parameters such as maximum safe operating pressure and temperature, and are engineered with a safety factor, corrosion allowance, minimum design temperature (for brittle fracture), and involve nondestructive testing, such as ultrasonic testing, radiography, and pressure tests, usually involving water, also known as a hydrotest, but could be pneumatically tested involving air or another gas.
Construction materials
Composite overwrapped pressure vessel with titanium liner.
Many pressure vessels are made of steel. To manufacture a cylindrical or spherical pressure vessel, rolled and possibly forged parts would have to be welded together. Some mechanical properties of steel, achieved by rolling or forging, could be adversely affected by welding, unless special precautions are taken. In addition to adequate mechanical strength, current standards dictate the use of steel with a high impact resistance, especially for vessels used in low temperatures. In applications where carbon steel would suffer corrosion, special corrosion resistant material should also be used.
Some pressure vessels are made of composite materials, such as filament wound composite using carbon fibre held in place with a polymer. Due to the very high tensile strength of carbon fibre these vessels can be very light, but are much more difficult to manufacture. The composite material may be wound around a metal liner, forming a composite overwrapped pressure vessel.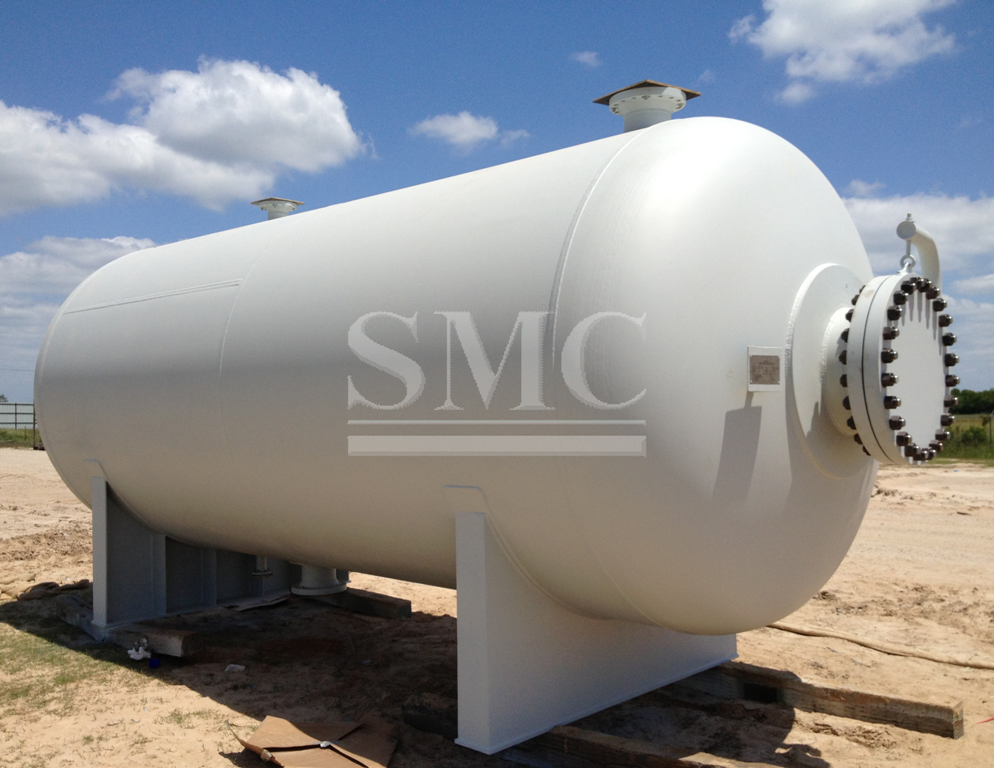 Other very common materials include polymers such as PET in carbonated beverage containers and copper in plumbing.
Pressure vessels may be lined with various metals, ceramics, or polymers to prevent leaking and protect the structure of the vessel from the contained medium. This liner may also carry a significant portion of the pressure load.
Pressure Vessels may also be constructed from concrete (PCV) or other materials which are weak in tension. Cabling, wrapped around the vessel or within the wall or the vessel itself, provides the necessary tension to resist the internal pressure. A "leakproof steel thin membrane" lines the internal wall of the vessel. Such vessels can be assembled from modular pieces and so have "no inherent size limitations". There is also a high order of redundancy thanks to the large number of individual cables resisting the internal pressure.
Uses
Pressure vessels are used in a variety of applications in both industry and the private sector. They appear in these sectors as industrial compressed air receivers and domestic hot water storage tanks. Other examples of pressure vessels are diving cylinders, recompression chambers, distillation towers, pressure reactors, autoclaves, and many other vessels in mining operations, oil refineries and petrochemical plants, nuclear reactor vessels, submarine and space ship habitats, pneumatic reservoirs, hydraulic reservoirs under pressure, rail vehicle airbrake reservoirs.
A unique application of a pressure vessel is the passenger cabin of an airliner; The outer skin carries both the aircraft maneuvering loads and the cabin pressurization loads.
Guest contributors are welcome at the Alloy Wiki.It is a weekly wiki and guide on alloy information and processing technology, while also about the vast array of opportunities that are present in manufacturing. Our team of writers consists of a Machining Material Supplier / Machinist / Tool and Die Maker, a Biomedical Engineer / Product Development Engineer, a Job Development Coordinator / Adjunct Professor, and a President and CEO of a manufacturing facility.
Link to this article:Pressure vessels
Reprint Statement: If there are no special instructions, all articles on this site are original. Please indicate the source for reprinting:Alloy Wiki,thanks!^^