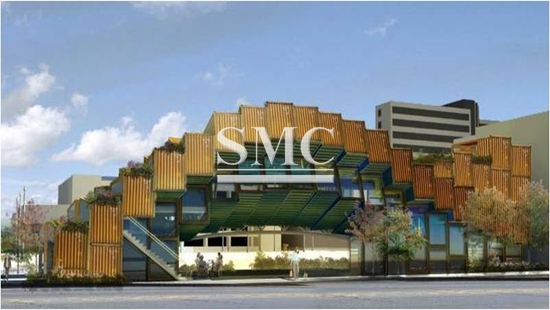 A few years ago, the Los Angeles-based architectural company APHIDoIDEA has released a stunning building aiming at becoming an environmental education center in Long Beach, California. This structure includeS an amphitheater as well as offices. The twist? The construction has been imagined with 65 used shipping containers! Even though such boxes would be nothing new for the inhabitants of such a port city, the project is definitely worth a look.
More than its truly one-of-a-kind design, this construction also tackles the environment problem with creativity. Solar panels have been placed on top of the recycled used shipping containers, and the latter are angled towards the sun to obtain as much light as possible. A rainwater harvesting system has also been added, and the roof is covered by a garden which cools the whole structure as well as provides a place to relax for local people.
Even though this groundbreaking structure has not seen the day of the light (yet), it provides a great example of how shipping containers can take part in some eco-friendly and truly innovative constructions.
Shanghai Metal Corporation is one of the leading businesses in the manufacturing of metalworking industry. We can produce and export the best quality of shipping containers, steel and other metal products, keeping an eye on manufacturing efficiency and environmental sustainability.
Shanghai Metal Corporation is a trusted aluminum alloy, aluminum foil price, stainless steel price and stainless steel manufacturer, kinds of stainless steel in china.

Guest contributors are welcome at the Alloy Wiki.It is a weekly wiki and guide on alloy information and processing technology, while also about the vast array of opportunities that are present in manufacturing. Our team of writers consists of a Machining Material Supplier / Machinist / Tool and Die Maker, a Biomedical Engineer / Product Development Engineer, a Job Development Coordinator / Adjunct Professor, and a President and CEO of a manufacturing facility.