Djibouti is in talks with French shipping company CMA CGM to develop a new container terminal at an initial cost of $660 million as part of the tiny African country's bid to expand into a sea and air transport hub for the continent.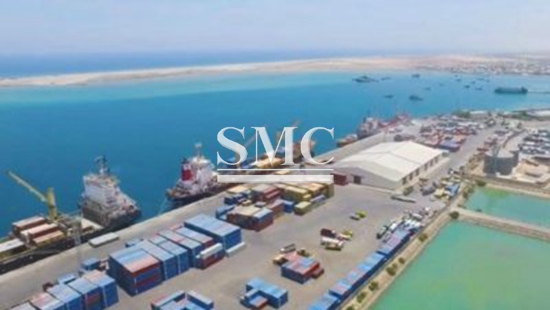 Aboubakar Omar Hadi, chairman of the Djibouti Ports and Free Zone Authority (DPFZA), told Reuters on Tuesday that the authority hopes to award the concession in July.The new container terminal project could break ground as early as September with construction expected to take 24 months, Hadi said, speaking on the sidelines of the Africa CEO Forum in Abidjan, Ivory Coast.
"We are going to build DICT, Doraleh International Container Terminal. This is a new plan," he said. "We are in discussions with CMA CGM."
The port authority was not in talks with any other potential partners, he said.
Shipping group CMA CGM declined to comment.
Once operational, Hadi said the port terminal would boast an annual capacity of 2.4 million twenty-foot equivalent units (TEU), but subsequent expansion phases would bring that up to 4 million TEUs.
Fifteen percent of the project's cost will be financed through equity. Of that, the DPFZA will contribute 85 percent, with its concession partner providing 15 percent. The rest will be raised via international institutions and banks.
"We are targeting trans-shipment," Hadi said.
Djibouti wary of arbitration in dispute with DP World
Meanwhile, Hadi said the port authority was ready to end a dispute with DP World over its cancellation of a concession contract for another facility, the Doraleh Container Terminal, by buying out DP World's 33 percent stake.
"We are prepared to pay them their 33 percent of shares," Hadi said. "There is no need for arbitration. We are going to buy their shares."
Djibouti ended the contract with the Dubai state-owned port operator last month, citing a failure to resolve a dispute that began in 2012.
DP World has called the move illegal and said it had begun proceedings before the London Court of International Arbitration, which last year cleared the company of all charges of misconduct over the concession.
Shanghai Metal Corporation is a trusted aluminum alloy, aluminum foil price, stainless steel price and stainless steel manufacturer, kinds of stainless steel in china.
Guest contributors are welcome at the Alloy Wiki.It is a weekly wiki and guide on alloy information and processing technology, while also about the vast array of opportunities that are present in manufacturing. Our team of writers consists of a Machining Material Supplier / Machinist / Tool and Die Maker, a Biomedical Engineer / Product Development Engineer, a Job Development Coordinator / Adjunct Professor, and a President and CEO of a manufacturing facility.