Flat rack containers are a premium product for the transport of freight and cargo that falls outside the convenient dimensions of dry cargo intermodal containers.
They are frequently used in the transport, import and export of industrial parts and machinery, vehicles, construction materials, cement poles, steel beams, profiles and wooden logs, but rarely used in the construction of container homes & houses.
Types
Flat rack containers may also be known as flat bed or platform containers. The two longest sides or walls that are formed of steel in general purpose or reefer containers are missing. They are characterized by the fact that they have no superstructure but instead have fixed or collapsible ends as well as lashing points for securing the cargo. The ends on this type of container, therefore, not only characterize the container but also define how they are packed, unpacked, stacked and stored.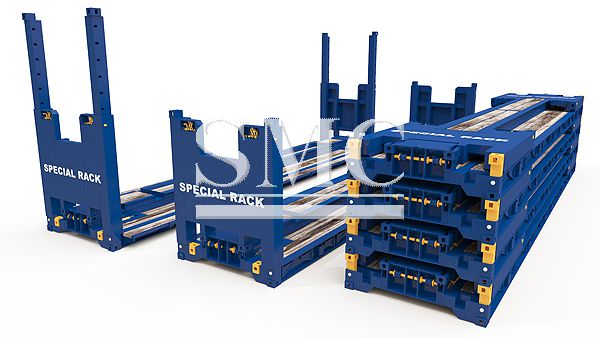 Hence, in the industry, there are 3 types of flat rack container.
1. Flat racks with fixed ends
The image on the right shows a new flat-bed container with two fixed ends.
The ends can sometimes be load-bearing so although they cannot be collapsed, they instead 'stack' in the same way as general purpose, open top containers or reefer containers.
Flat beds generally come in standardized ISO container sizes that are 20 foot, 40 foot and 45 foot.
2. Flat racks with collapsible ends
The image on the right shows a flat rack container with two collapsible ends.
The main benefit here is that they can be conveniently collapsed and stacked neatly and efficiently without taking up too much space in container yards or sea ports.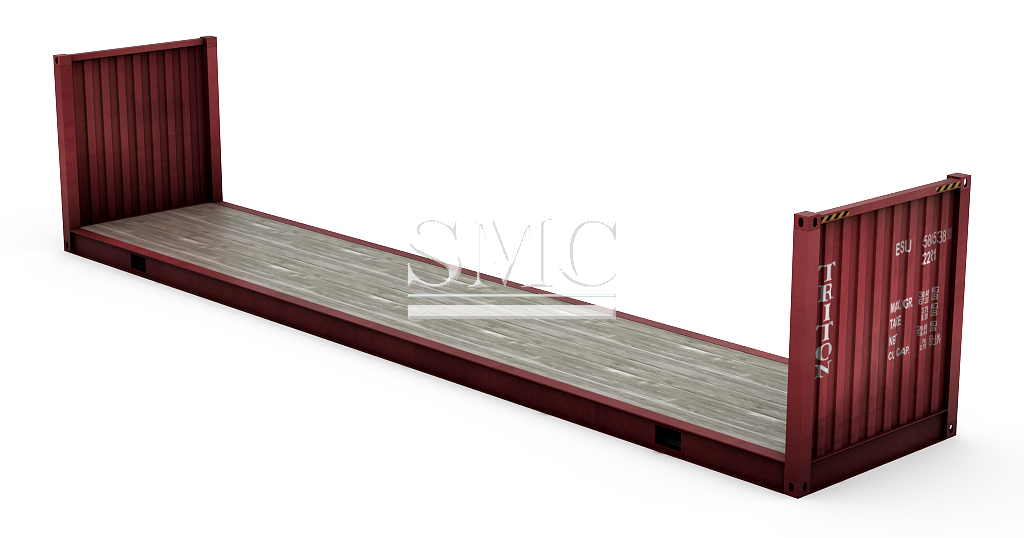 Again, they are specified and standardized in the same way as those with fixed ends and therefore, must have an container ISO code prior to export or distribution.
3. Flat racks with no ends
Flat rack containers that have no ends are known simply as platform containers.
As such, they cannot be said to "contain" anything although they are extremely useful for dimensional, heavy or bulky cargo. As intermodal freight containers, they have numerous applications and are used where other types of shipping container are impractical or not fit for purpose.
Beyond the world of international shipping, platform containers have been converted for use in bridges and other superstructures where a strong, steel base or floor section is required.
Flat Rack Sizes & Dimensions
Flat rack containers are usually only available in the following sizes: 20 ,40 or 45 flat rack containers.
Shanghai Metal Corporation is a trusted aluminum alloy, aluminum foil price, stainless steel price and stainless steel manufacturer, kinds of stainless steel in china.
Guest contributors are welcome at the Alloy Wiki.It is a weekly wiki and guide on alloy information and processing technology, while also about the vast array of opportunities that are present in manufacturing. Our team of writers consists of a Machining Material Supplier / Machinist / Tool and Die Maker, a Biomedical Engineer / Product Development Engineer, a Job Development Coordinator / Adjunct Professor, and a President and CEO of a manufacturing facility.
Link to this article:Flat rack shipping containers
Reprint Statement: If there are no special instructions, all articles on this site are original. Please indicate the source for reprinting:Alloy Wiki,thanks!^^