China, a country at the forefront of industry and innovation, was previously known for the massive amounts of air pollution and smog plaguing their largest cities. Recently, they have been working extremely hard to combat that image. By becoming leaders in the electric vehicle industry, wind and solar energy industries, and new renewable energy research they have slowly been transforming their reputation. The latest idea being implemented to improve their environmental situation is the construction of a "Forest City".
This ambitious plan has been set in motion by the Chinese government and is expected to be completed by the year 2020. The Forest City is currently being built in the mountainous region of Guangxi in southern China. Placed beside the Liujiang River this new urban planning development will not only be sustainable and purposeful but also beautiful. Stefano Boeri Architetti (SBA) is an Italian architectural agency world renowned for their environmentally conscience designs. The Forest City is their latest and greatest design made to fight the damaging air pollution in China's major cities.
The Forest city will contain a school, offices, hotels, hospitals, and homes. These buildings will all be covered with thousands of trees and plants of various species. It is expected to contain roughly 40,000 trees and a million plants at its completion. These plants will contain more than 100 different species capable of producing 100 tons of oxygen annually. The vegetation has the potential to absorb 10,000 tons of CO2 and 57,000 tons of other pollutants a year. The Forest City will be home to 30,000 residents. Not only will The Forest City benefit the air quality, but will also decrease the average temperature, improve biodiversity, and create an ecosystem for birds and insects.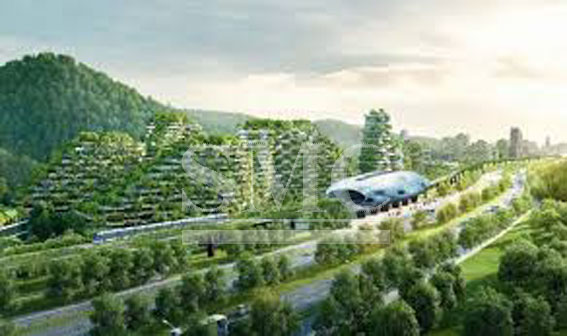 While the trees and plants will make the city physically green in color, it will also be green in a symbolic sense. The Forest City will utilize geothermal energy for air conditioning and have solar panels on its roof to supplement its energy use. As for transportation, the city will contain an electric rail line that goes through the center of the city in addition electric vehicles. China's Forest City is the first of its kind, and while it may not be suitable for every city, it will definitely be a huge leap in terms of environmentally friendly housing and global sustainability.
Shanghai Metal Corporation is a trusted aluminum alloy, aluminum foil price, stainless steel price and stainless steel manufacturer, kinds of stainless steel in china.
Guest contributors are welcome at the Alloy Wiki.It is a weekly wiki and guide on alloy information and processing technology, while also about the vast array of opportunities that are present in manufacturing. Our team of writers consists of a Machining Material Supplier / Machinist / Tool and Die Maker, a Biomedical Engineer / Product Development Engineer, a Job Development Coordinator / Adjunct Professor, and a President and CEO of a manufacturing facility.
Link to this article:Forest City Fighting Pollution
Reprint Statement: If there are no special instructions, all articles on this site are original. Please indicate the source for reprinting:Alloy Wiki,thanks!^^