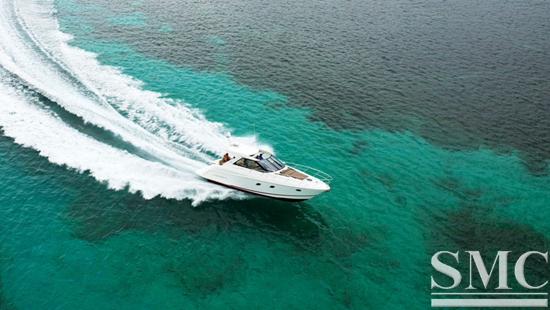 Do you get seasick? Worry not, as it plagues many of us on our trips to the lake, the sea, or even on a cruise, depending on the severity of conditions. Producers of Marine equipment have taken note of this issue since the early 1900′s and have made significant improvements in recent years, assisting all of us in partaking in this fun and enjoyable pastime.
A company called Seakeeper, based in California and largely known for it's Marine driving aids, has engineered a solution. They have developed an aerospace inspired gyroscopic stabilization system as way to remove up to 95% of all boat roll, the motion that causes seasickness and anxiety. This however, will not affect ships' vertical "pitch" motion, allowing them to continue riding over ocean swells rather than just punching through them.
This system consists of an aluminum-cased sphere resembling a Pilates ball, rotating back and forth on the side bearings. Inside of the sphere is a 288 pound (130 kilogram) flywheel, spinning at a speed of roughly 836 miles per hour (1345 kilometers per hour). This technology allows the flywheel and sphere to balance out the ship's sideways motions, helping to eliminate boat roll.
This technology is theoretically nothing new, as large ships have used this technology since the early 1900s. The issue though, is incorporating this into small boats for recreational use, where you are most likely to experience symptoms of motion sickness. Seakeeper has achieved this in their Seakeeper 2 design, allowing it to be used in recreational boats between 27 and 32 feet of length. The company hopes to be able to integrate this in the 20 to 21 foot recreational boats by 2021.
As cool as this innovation is, nothing comes without a price. The Seakeeper 2, for boats with up to 7 tons of displacement, starts at $22,000 before installation. The largest system, suited for boats with up to 100 tons of displacement, costs $216,000 before installation. Even so, it beats being sick by a long shot.
At Shanghai Metal Corporation we have the products, knowledge and technologies to provide you with high-quality metal supplies as well as top of the line Boat and Mooring accessories, whether for recreational or business purposes. For more information about our aluminum products or Mooring accessories, global shipping, and exceptional customer service, please visit our website here, or reach out to us on Twitter @Shanghai_Metal, Facebook, or LinkedIn!
Shanghai Metal Corporation is a trusted aluminum alloy, aluminum foil price, stainless steel price and stainless steel manufacturer, kinds of stainless steel in china.

Guest contributors are welcome at the Alloy Wiki.It is a weekly wiki and guide on alloy information and processing technology, while also about the vast array of opportunities that are present in manufacturing. Our team of writers consists of a Machining Material Supplier / Machinist / Tool and Die Maker, a Biomedical Engineer / Product Development Engineer, a Job Development Coordinator / Adjunct Professor, and a President and CEO of a manufacturing facility.
Link to this article:Full Sail Ahead!
Reprint Statement: If there are no special instructions, all articles on this site are original. Please indicate the source for reprinting:Alloy Wiki,thanks!^^