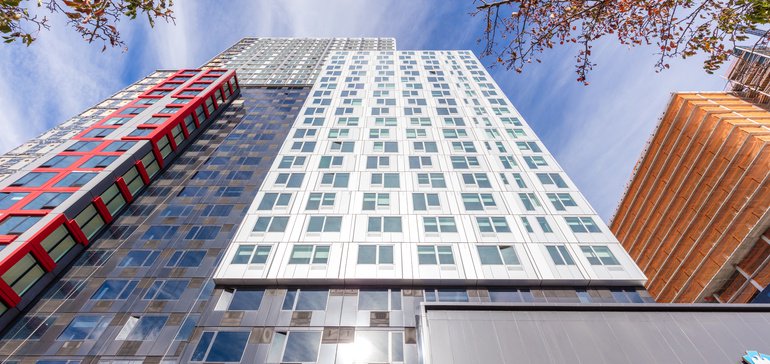 Credit: FullStack Modular

When Jan Mischke talks with industry leaders about the benefits of modular design, they usually respond in two ways, he said. "They are either optimistic about the future of modular or they are really worried that modular companies will eat their cake."
Their fears have a good reason, said Mischke, a partner of a McKinsey Global Institute, to Construction Dive. Although the modular kit represents only about 3% of the US construction market, recent projects have focused attention on the efficiency that it can offer for commercial projects, he said. These include new Marriott and Hilton hotels, Skender's multi-family projects, and several McDonald's restaurants in the UK.
Mischke is one of the authors of a recent McKinsey study that found that modular projects can handle 20% to 50% faster than traditional methods and reduce project costs by up to 20%. The method also makes sense for contractors in restricted labor markets, and is suitable for structures such as schools and health facilities where layouts with similar facilities and equipment can be easily duplicated.
"It's also great for temporary buildings like a school that's used during the renovation of the main building," said Mischke.
The study predicts that construction companies who prefer modular construction will change their roles by building less on-site rather than standard approach. The McKinsey official said experienced industry leaders see Modular as a growth opportunity rather than a threat.
"I want to encourage executives of E & C companies to think about what their sweet spot might be after 10 to 15 years," he said. "It's time to move."
The role of technology
The McKinsey researchers said in several ways that technology is playing an increasingly important role in the transition to off-site construction. Robotics and other automation technologies improve and accelerate the manufacturing process and make it more like a car production. Many modular players use virtual and augmented reality programs that create digital models that allow customers to visualize and customize designs before they are created, the report says.
The technology also helps to enable the delivery "just-in-time" on the construction site digitally. This is critical as it is not efficient to stack and store modules for later use, the report says. Programs such as RIB SAA offer, for example, planning and robot software for manufacturers of modular constructions. As soon as the modules arrive at the construction site, they lift the automatic cranes and move them to the desired position.
Lindbacks, a Swedish modular construction company, uses Randek's industrial construction machines to automate a variety of construction tasks, including nailing, opening milling, cutting, gluing, labeling with inkjet printers, and adding and handling bows.
Guest contributors are welcome at the Alloy Wiki.It is a weekly wiki and guide on alloy information and processing technology, while also about the vast array of opportunities that are present in manufacturing. Our team of writers consists of a Machining Material Supplier / Machinist / Tool and Die Maker, a Biomedical Engineer / Product Development Engineer, a Job Development Coordinator / Adjunct Professor, and a President and CEO of a manufacturing facility.