This month will see Britain formally announce its controversial departure from the European Union and some of Britain's leading house builders are not waiting around to judge the impacts. Berkeley, Taylor Wimpey, and Persimmon have all said they are either planning new developments of prefabricated homes or are seriously considering doing so.
The demand for affordable rented accommodation is currently on a high in the United Kingdom and the larger companies are currently looking to catch up with the smaller social housing developers and large non-traditional housing suppliers who are moving firmly to capitalize on the increase in demand.
Prefabrication – which sees panelised or volumetric (whole rooms) components made in a factory and bolted together on site – is seen as an answer to two chronic shortages in the UK: that of homes, and also of skilled construction workers, a shortage many fear will be exacerbated by Brexit.
A report by engineering firm Arcadis estimated that the industry is likely to see a reduction, by 2020, of as many as 214'000 workers should the respective governments conclude on a 'hard Brexit'.
The situation would be most acute in London, where a recent report shows that 95,000 of London's construction workers – more than a quarter of the total – have EU nationality.
Berkeley is set to construct its first ever factory-built homes in 2017. Initially, just 16 prefabricated homes will come to the south-east of London; however, another 50 are likely to follow soon after with the program open to the potential of significant expansion.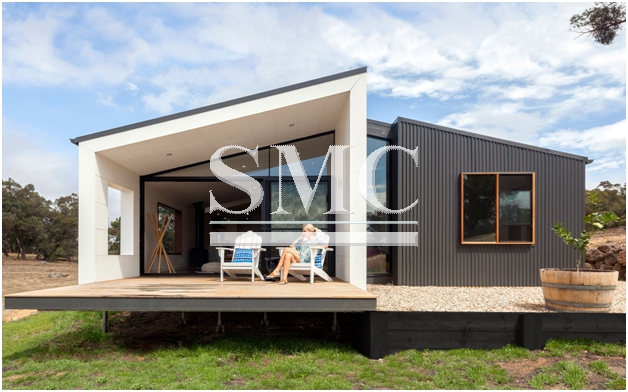 Eventually, without giving a timeline, the company said it had a target of building 10-15% of all its houses using prefabricated techniques in the "short to medium term".
Taylor Wimpey is also exploring ways to "future proof" its business and is considering offsite construction options, divisional managing director John Gainham told Reuters.
Another leading housebuilder, Persimmon, has long had a factory in central England, part of a business called Space4, that makes prefabricated timber frames for about 40% of all its houses.
Smaller companies are further ahead in the game. Arguably the most ambitious of these companies is the forward thinking Leeds-based company Citu, which already has timber-framed housing systems designed to impressive environmental standards.
"We're looking to turn over about £50m a year within the next two to three years"– Chris Thompson, Citu founder
Citu was founded 12 years ago but now it is scaling up. The company has invested £3m in a 60,000-sq-ft factory located on a 3.5-acre brownfield site in Leeds city centre. With help from a £400,000 grant from Leeds City Council, Citu's new factory will eventually be able to produce up to 750 low-carbon homes each year.
"We have capacity to expand if and when we prove our business model," company founder Chris Thompson (pictured above) told GCR's sister publication Construction Research & Innovation in December. "We can form partnerships that will open up channels elsewhere. We're looking to turn over about £50m a year within the next two to three years."
The big companies from China have also seen the trend appearing in the UK and also want a piece of the action. China National Building Material Company (CNBM) will bring its industrial might to bear in a £2.75bn joint venture with a UK housing association, Your Housing Group (YHG), and a renewable energy supplier, Welink, to build six factories that can produce 25,000 homes a year by 2022.
Moves such as this have awoken the big players in the northern European Island.
"Fundamentally, the construction industry has been doing some things the same way for hundreds of years," Berkeley Chairman Tony Pidgley told Reuters. "Historically, we had the labour … But the challenge is different now."
Shanghai Metal Corporation is a trusted aluminum alloy, aluminum foil price, stainless steel price and stainless steel manufacturer, kinds of stainless steel in china.

Guest contributors are welcome at the Alloy Wiki.It is a weekly wiki and guide on alloy information and processing technology, while also about the vast array of opportunities that are present in manufacturing. Our team of writers consists of a Machining Material Supplier / Machinist / Tool and Die Maker, a Biomedical Engineer / Product Development Engineer, a Job Development Coordinator / Adjunct Professor, and a President and CEO of a manufacturing facility.