Just last week, the world's smallest as well as most accurate 3D-printed biopsy robot was introduced. They call it the Stromran 4, a robot that was created from 3D-printer plastic and is powered by air pressure. The advantage of using plastic is that the robot will be able to be used in an MRI scanner. This will be able to significantly increase the accuracy of a breast cancer biopsy.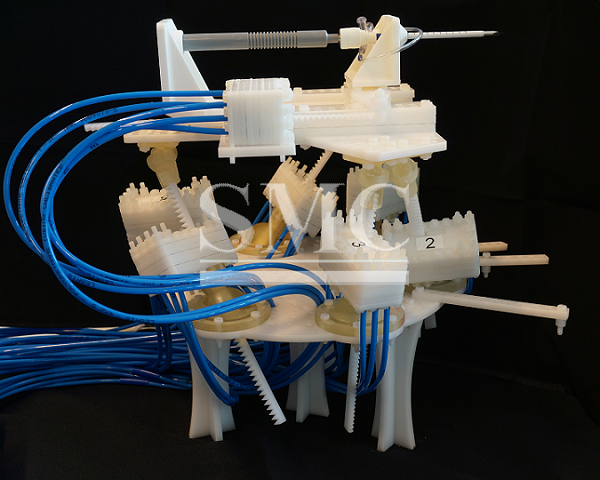 This robot recently won an award during the Surgical Challenge hosted at the international Hamlyn Symposium in London. This robot plays a critical role during the diagnostic phase of breast cancer because of the accurate needle control, effectively real-time MRI scanning. The thin needle allows for a quicker and more accurate diagnosis to be made.
The Stormram 4 is powered by a rectilinear and curved air-pressure motor. It is control from the outside of the MRI scanner by 5-meter-long air pipes. Because the design is much smaller than the previous attempt, it is able to fit in narrower tunnels. Although during a biopsy, we are taking sample out of the tissue, this can be non-invasive. Accurate navigation during the biopsy is crucial when it comes to detecting cancer. The uses of special needles that have a tip that can be extremely hot or extremely cold make it possible to destroy tumor cells that are near the tip. This will enable the cancer treatment to be non-invasive.
When it comes to very precise and accurate detections as well as visualization of cancel cells and tissue, MRI scanners are the best solution. Unfortunately, it's impossible to make full use of the accuracy as long as the needles are being controlled by human hands. Robots are the solution to this issue. Robots will allow a more precise and consistent route. But, not all robots are able to be used together with MRI scanners. Robots are typically made with metal, which cannot be used near the strong magnetic fields of MRI scanners. This is why Stormram 4 Is entirely made up of plastic.
Medical robotics will soon be the future of hospitals. In no time, simple procures or even complex procedures will be done with the help of robots. Robots will provide consistent procedures and will also help save time and energy. They will help alleviate the stress of doctors by taking over in some aspects. They are becoming more and more popular in different sectors, and soon will be the normal.
Shanghai Metal Corporation is a trusted aluminum alloy, aluminum foil price, stainless steel price and stainless steel manufacturer, kinds of stainless steel in china.
Guest contributors are welcome at the Alloy Wiki.It is a weekly wiki and guide on alloy information and processing technology, while also about the vast array of opportunities that are present in manufacturing. Our team of writers consists of a Machining Material Supplier / Machinist / Tool and Die Maker, a Biomedical Engineer / Product Development Engineer, a Job Development Coordinator / Adjunct Professor, and a President and CEO of a manufacturing facility.
Link to this article:Small Printer, Large Goal
Reprint Statement: If there are no special instructions, all articles on this site are original. Please indicate the source for reprinting:Alloy Wiki,thanks!^^