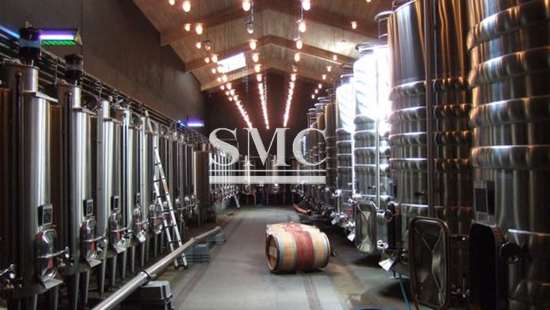 Wine making today is just as much as an art as it was in the past. Yet, even in such a tradition-rooted industry, wine makers always strive for new technologies in order to increase the quality of their products. For instances, one of the most signification innovation of the industry in recent decades are the 'new' tanks used for fermentation, blending and storage, increasingly made out of stainless steel.
In 1961, Château Haut Brion installed the first stainless steel tank and the rest of the world followed the trend. The saying 'good wine stays in small barrels' is still only valid today for extremely top quality wines, kept in old-fashioned wooden barrels or concrete tanks. For 'less exceptional' grapes and wines, stainless steel tanks have proven to be more functional.
Stainless Steel is an iron alloy containing a minimum of 10.5% chromium and varying amounts of carbon, silicon, manganese, nickel, etc. Durability, corrosion-resistance and good temperatures' control are the most important characteristics that make such metal ideal for wine production. A constant cooling of the temperature must be attained during fermentation and Stainless steel containers proved to be very good for temperature control purposes. Besides, the ease of cleaning stainless steel surfaces means almost non-existing product contamination.
Tanks can be multipurpose or designed for specific vinification processes. Stainless steel tanks are usually of the multipurpose kind and –by adding different fittings- they can be used for basically any operation in a wine cellar. The classic tanks' design in the wine making industry is the cylindrical, dimple-jacketed stainless steel tank.
Stainless Steel grades 304 and 316 are the most suitable for wine tanks. They can be in both 'standard' and/or 'low carbon'. An advantage of stainless steel is that of being completely neutral in the winemaking process. Thus, these containers do not impart any specific characteristics into the wine – the opposite of traditional oak barrels.
Throughout the whole wine making process, a great deal of attention has to be paid to avoid air infiltrations in the tank. During fermentation this is not a problem as yeasts immediately destroy any oxygen molecule. During other phases –instead- air infiltration could become an issue. Yet, thanks to stainless steel anti-porosity and the provision inert gas within the tank, the wine is protected from infiltrations when using stainless steel tanks –especially if multi-layered.
Since 2001, Shanghai Metal Corporation has been expanding the production of stainless steel items. At SMC we can provide you with standard Alcohol Tanks, Stainless Steel Tank and Single-layer Storage Tank (with agitator or not). Our design services team can integrate your specific product's requirements with detailed CAD drawings and help producing some of the finest quality tanks in the industry. For more details, enquiries and a full list of products, please click here.
Shanghai Metal Corporation is a trusted aluminum alloy, aluminum foil price, stainless steel price and stainless steel manufacturer, kinds of stainless steel in china.

Guest contributors are welcome at the Alloy Wiki.It is a weekly wiki and guide on alloy information and processing technology, while also about the vast array of opportunities that are present in manufacturing. Our team of writers consists of a Machining Material Supplier / Machinist / Tool and Die Maker, a Biomedical Engineer / Product Development Engineer, a Job Development Coordinator / Adjunct Professor, and a President and CEO of a manufacturing facility.