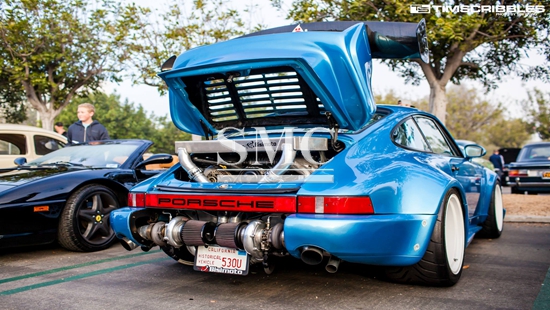 As nations worldwide call for more environmental protection and regulation, the automotive industry has been focused on, seemingly by a magnifying glass. With the use of large 8 cylinder engines rapidly declining, the time of the turbocharger has come to light. The turbocharger has been used in many economy cars, but is slowly becoming much more popular among high-performance and work vehicles as well. With more and more companies answering to environmental regulation, it was time for innovation to shine.
Ford, a United States vehicle manufacturer, was one of the first innovators of turbocharged engines within the regular commuter car industry. From the Focus to the F-150, we can find turbochargers increasing efficiency and performance within most of this company's cars, helping the environment and saving customers money on their daily commutes. Although this has been a trend among other companies such as Dodge, Volkswagen, and BMW, Ford was an innovator in terms of offering its classic F-150 with a 2.3L turbocharged 4 cylinder and a 3.5L twin-turbocharged 6 cylinder power plants on top of its famed 5.0L. This was revolutionary, as this increased the F-150's fuel economy dramatically, while allowing greater tune-ability on top of already impressive performance. This allowed for highly increased popularity and a different view of this American icon.
Performance cars have also greatly benefitted from the introduction of turbochargers as well. Ford was quick to answer to the challenge of today's supercars such as the with the Ford GT, using the same 3.5L twin-turbo power plant introduced in its F-150, but easily increasing the power to a staggering 647 horsepower (483 kW) and 550 ft-lb (746 Nm) of torque. This truly sets the Ford GT apart from the competition, as other cars of its class are using v8s and electric motors which cost much more to produce, yet deliver very similar performance numbers on and off the track.
With the increase in environmental regulation, automotive producers have begun to answer to the desires of their clients, producing very economic commuter cars, focusing on efficiency and comfort. As technology has developed, this technology has found its way into the performance, super car, and even work truck industries that have been traditionally dominated by large, inefficient engines. In today's age, you can drive your 650 horsepower super car to work and achieve fuel consumption of 16 miles per gallon, while still being able to reach a 0-100 km/h time of 2.7 seconds. It's just a bit more exciting than the average Toyota Corolla.
For more information about turbochargers and heat transfer systems, please visit our website at:
https://www.shanghaimetal.com/aluminum_products_for_air_automotive_radiator-6196.htm
https://www.shanghaimetal.com/turbine_wheels-8379.htm
Shanghai Metal Corporation is a trusted aluminum alloy, aluminum foil price, stainless steel price and stainless steel manufacturer, kinds of stainless steel in china.

Guest contributors are welcome at the Alloy Wiki.It is a weekly wiki and guide on alloy information and processing technology, while also about the vast array of opportunities that are present in manufacturing. Our team of writers consists of a Machining Material Supplier / Machinist / Tool and Die Maker, a Biomedical Engineer / Product Development Engineer, a Job Development Coordinator / Adjunct Professor, and a President and CEO of a manufacturing facility.
Link to this article:The Replacement for Displacement
Reprint Statement: If there are no special instructions, all articles on this site are original. Please indicate the source for reprinting:Alloy Wiki,thanks!^^