Two of the largest steelmakers in Vietnam are on the verge of multi-billion dollar investment bids, in an attempt to reduce the countries dependence on Chinese imports. Second largest, Hoa Sen Group is planning to spend $10 billion on production units in the southern city of Ninh Thuan, where it will be utilizing the large import and export opportunities of the deep water port. The port will allow easy access for the import of raw materials and the export of finished steel.
Construction will commence in 2017, whilst operation is scheduled to begin in 2019. If all goes according to forecast, the expansion will enable the Hoa Sen Group to quadruple their current annual capacity of 16MT to 64MT by 2031.
Although it's yet to be revealed, it's widely speculated that the new facilities are going to consist of a blast furnace, something that Vietnam lacks if it seriously wants to become a globally recognised producer of steel. A Taiwanese-led project by Formosa Plastics Group to start up Vietnam's first blast furnace has been set back by a toxic waste spill.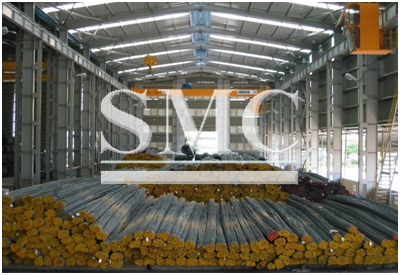 Hoa Phat Group, the Vietnamese steel industry leader, plans to build a $2.7 billion steelworks in the Dung Quat Economic Zone of Quang Ngai Province, on a site that a Taiwanese steelmaker had picked for a project that it proved unable to finance. Hoa Phat aims to start the new steelworks as soon as 2020. Its 4 million tons of annual capacity will lift the group total 130%.
As the Vietnamese economy continues to grow at one of the fastest rates in south-east Asia, so does the national demand for steel. The domestic production of steel represents just 40% of the countries consumption; last year saw a concerning rise of 33% in imports to 57.1MT, of which China accounted for 61%.
It would appear that Chinese overcapacity is also affecting countries closer to home, as some scenarios have seen the Vietnamese implement "safeguard" tariffs. It would also be of reasonable assumption to believe that the government would like to cut reliance on China given the increasing territorial tensions over the South China Sea.
Shanghai Metal Corporation is a trusted aluminum alloy, aluminum foil price, stainless steel price and stainless steel manufacturer, kinds of stainless steel in china.
Guest contributors are welcome at the Alloy Wiki.It is a weekly wiki and guide on alloy information and processing technology, while also about the vast array of opportunities that are present in manufacturing. Our team of writers consists of a Machining Material Supplier / Machinist / Tool and Die Maker, a Biomedical Engineer / Product Development Engineer, a Job Development Coordinator / Adjunct Professor, and a President and CEO of a manufacturing facility.