Drones have been one of the fastest growing phenomenons in the last few years, both in terms of private and commercial use. To be the expansion into context, back in 2012 the Federal Aviation Administration (FAA) estimated that by 2012, 30'000 drones will be operating in US airspace; at this current time (2016) around 2.5 million drones are operational in the United States, of which 500'000 are being used commercially. Unsurprisingly, the FAA has since revised their forecast and now predicts the country will have 7 million drones in the air by 2020.
Many believe drones are the next step in the process of the 'industrial revolution'. Before the availability of the modern cranes and industrial equipment we rely so heavily upon today, labourers would be forced to complete every single job on the construction site by hand. Jobs that today take months to complete would have in years gone by taken years, and in maybe 20 years time, the jobs we see today taking months could take weeks, thanks to the use of drones.
Assessing the earth for the foundations of construction is also something that a drone can be considerably more efficient for. Traditional land survey equipment gets the job done and provides accurate results, however, when the apt software is installed into a drone, it will also attain accurate result but it will complete the job in a time 85-percent quicker at a cost of 10 times cheaper than traditional methods.
Furthermore, the job a project manager is also made fundamentally easier through the assistance of drones. In years gone by builders manually assed project dimensions, which would predominantly be unreliable, timely and costly. By using drone data tools, the drone can automatically measure essential projects components, such as stockpile volumetric, whilst also sending instant feedback to the project manager who can begin analysis.
Drones are becoming increasingly common in day-to-day life but this is just for leisure, more importantly drones are becoming more and more prevalent in a variety of industries but none more crucially than construction. Construction is an industry very much built on efficiency, in the sense of cost and time; hence the reason drones potentially have such a pivotal role to play, when the above reasons are taken into consideration.
You would be a brave person to bet against drones being a key player in the next industrial revolution.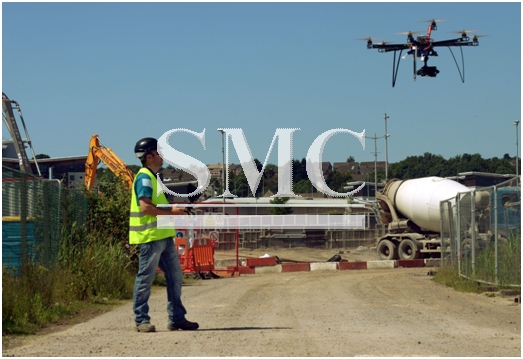 Guest contributors are welcome at the Alloy Wiki.It is a weekly wiki and guide on alloy information and processing technology, while also about the vast array of opportunities that are present in manufacturing. Our team of writers consists of a Machining Material Supplier / Machinist / Tool and Die Maker, a Biomedical Engineer / Product Development Engineer, a Job Development Coordinator / Adjunct Professor, and a President and CEO of a manufacturing facility.