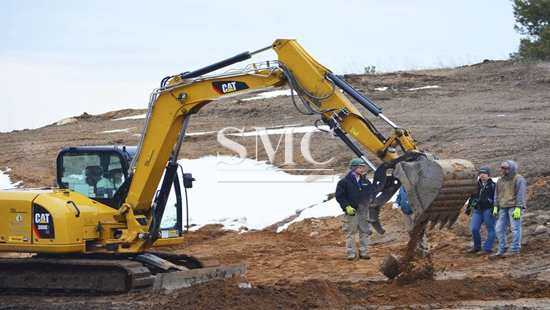 BINGHAM — Eleven landscaping students on Friday took a muddy leap into the world of heavy machinery.
The Leelanau County air vibrated with the roar of engines and the shrill beep of back-up alarms. The cacophony made it impossible to hear the squish of mud sluicing under oversize implement tires.
The air also carried an unseasonable April chill that required the students to wear coats, gloves and hats as they trudged through sloppy mud between workshop stations that offered beginning lessons in the operation of a chainsaw, a pair of front-end loaders, commercial mowers, a backhoe and a wood chipper.
"It's all about teaching best practices," said Mark Polinko, landscape architect for TruNorth Landscaping. "We want to pass on our experience to the younger generation."
The workshop was held at TruNorth's facility on East Bingham Road.
Brian Matchett, program coordinator for the partnership between Northwestern Michigan College and Michigan State University that allows students to earn both an Associate of Applied Science Degree from NMC and a Certificate from MSU's Institute of Agricultural Technology in one of three areas: fruit and vegetable crop management, landscape management or viticulture.
Friday's event at TruNorth's facility in Bingham attracted 11 students in the landscape management program.
TruNorth and Traverse City-based Parshall Tree Care Experts contributed heavy equipment and a combined 11 staffers to give the students a hands-on introduction to six practical skills. It's the third year the two businesses have supplied staff time and equipment.
"We're getting them over the introductory step," Matchett said of students.
Participation in the workshop is a prerequisite for the program's required 480-hour internship at a business in the region. The day acquaints students with the machines they'll be using on a daily basis on the job.
Students huddled against the cold at the chainsaw station, neon yellow cords dangling from their ear protection. Doug Parshall showed them how to start the machine, how to hold it safely and how to cut most efficiently.
Gabby Waterman, of Kewadin, and Jessica Bersin, of Williamsburg, took turns creating slices of log that dropped into the mud.
"I want to run my own greenhouse someday," said Waterman.
It was the third year Parshall and TruNorth have volunteered staff time and equipment for the NMC training session.
At the heavy equipment stations, instructors showed the students how to check engine oil, monitor hydraulic pressure and operate clutch levers. Each student took a turn at moving dirt, moving mud, chipping branches, digging a hole and moving a boulder. All at first were tentative as they figured out how the unfamiliar controls manipulated an earth-moving bucket, a giant plow. But most quickly developed a feel for the machines.
"It just becomes more and more familiar as you get used to it," Parshall told the students. "But you still have to maintain safe practices."
Shanghai Metal Corporation is a trusted aluminum alloy, aluminum foil price, stainless steel price and stainless steel manufacturer, kinds of stainless steel in china.
Guest contributors are welcome at the Alloy Wiki.It is a weekly wiki and guide on alloy information and processing technology, while also about the vast array of opportunities that are present in manufacturing. Our team of writers consists of a Machining Material Supplier / Machinist / Tool and Die Maker, a Biomedical Engineer / Product Development Engineer, a Job Development Coordinator / Adjunct Professor, and a President and CEO of a manufacturing facility.