Sometime Friday afternoon, a ship will cruise into Commencement Bay carrying unusual cargo — the largest container cranes on the West Coast.
The Hong Kong-flagged Zhen Hua 28 will slowly pull in with four huge cranes welded to its frame, bound for the Port of Tacoma's Husky Terminal.
At 295 feet tall, the cranes are designed to accommodate the most massive ships in the world, so-called super post-Panamax vessels. When the booms are raised, the cranes are 434 feet high — taller than the fictional monster Godzilla but short of the Space Needle's 605-foot height.
Our new generation container cranes are capable of handling larger and wider vessels entering the industry. So exactly how big are they? With the booms up they stand 434 feet high, making them taller than a famous fictional monster.
The cranes' arrival will be visible from many public site in the Puget Sound area, starting with the ship's arrival in Port Angeles on Friday morning. There, the ship will take on a member of the Puget Sound Pilots, who will guide it into Commencement Bay.According to a live map of the ship's location, it was nearing Port Townsend and Whidbey Island about 7 a.m. Friday.
If the schedule holds, Zhen Hua 28 could arrive in the bay by early Friday afternoon.
"It will remain anchored in the bay for a couple of days, then come to Husky Terminal for offloading — which will also take a few days," said Northwest Seaport Alliance spokeswoman Tara Mattina via email.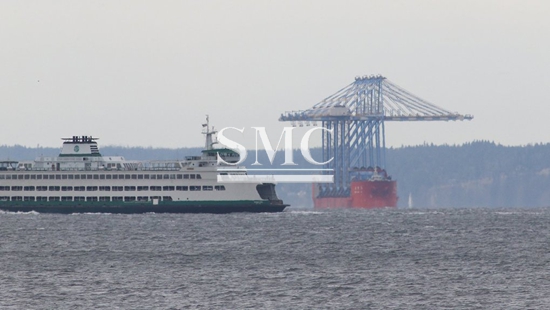 Cranes moving into Puget Sound on Friday
Moving the cranes into the bay is no easy feat, said Puget Sound Pilots president and captain Eric Von Brandenfels. One of 50 captains with Puget Sound Pilots will take the helm of the ship at Port Angeles, where it enters state waters.
In 2004, he piloted the ship that brought new cranes to Pierce County Terminal.
"I recall it being very (unstable) and wondering how it made it across the vast Pacific Ocean," Von Brandenfels said via email.
How to view the ship
While Mother Nature could have other ideas, there should be plenty of opportunities to spy the vessel bringing four massive cranes into the Port of Tacoma.You can track the ship on a map here,and here are a number of viewing locations, listed from north to south:
Dungeness National Wildlife Refuge, near Port Angeles
Fort Worden State Park and Fort Flagler Historical Park, near Port Townsend
Fort Casey Historical Park, on Whidbey Island
Point No Point County Park, near Hansville
Golden Gardens Park, West Point Lighthouse at Discovery Park, Alki Beach Park and Lincoln Park, all in Seattle
Point Robinson off Vashon Island
Saltwater State Park in Des Moines
Dash Point State Park in Federal Way
Browns Point Lighthouse Park in Northeast Tacoma
Parks and other public areas along Tacoma's Ruston Way, Thea's Park and Fireman's Park.
State parks require a $10 daily access fee.
Viewers can also track the Zhen Hua 28 with smartphone apps like Marine Traffic and Ship Finder.
Shanghai Metal Corporation is a trusted aluminum alloy, aluminum foil price, stainless steel price and stainless steel manufacturer, kinds of stainless steel in china.

Guest contributors are welcome at the Alloy Wiki.It is a weekly wiki and guide on alloy information and processing technology, while also about the vast array of opportunities that are present in manufacturing. Our team of writers consists of a Machining Material Supplier / Machinist / Tool and Die Maker, a Biomedical Engineer / Product Development Engineer, a Job Development Coordinator / Adjunct Professor, and a President and CEO of a manufacturing facility.