Who say only women can wear jewelry? Stainless steel jewelry is the answers of it! Stainless steel jewelry is suitable for women and men. It is attractive, yet masculine.
Stainless steel in French "inoxydable" is an iron alloy with a minimum of 10.5% Chromium. It is best known as the material used to make objects that requires strength and safety like aircraft, automotive bodies, building support, or dentistry instruments. This metal product was discovered in 1913 by Harry Brearley, a Sheffield metallurgist when he was doing the experiment with different types of steel for weapons. He noticed that a 13% Chromium steel had not corroded after several months.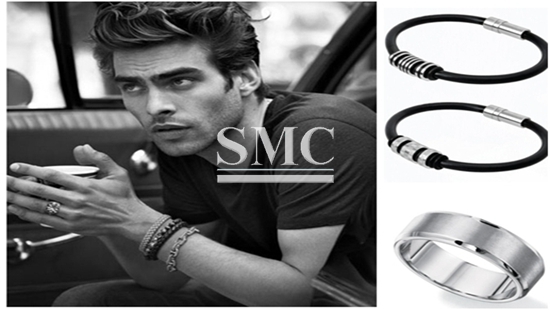 Traditional metal such as gold, silver, and platinum are probably being the first choice for people when they buy metal jewelry, but actually stainless steel has lots of benefits when it used as jewelry. Why?
First, it is versatile. Stainless steel jewelry is versatile. People wear jewelry to make them look more attractive or they buy it because they like to appreciate the beauty of the jewelry itself. Regardless of what the reasons are stainless steel jewelry can help you to fulfill those needs.
Second, it is a good material. Unlike gold and silver, stainless steel jewelry doesn't need to be handled very carefully, because it is durable! You don't need to polish very often because it is resistant to corrode.
Third, it is hypoalleregenic. If you are someone who has sensitive skin, stainless steel jewelry is the best choice for you. Traditional metal jewelries like gold, silver, and platinum can elicit allergic reactions because of the impurities in the metal itself, but stainless steel is different. It is hypoalleregenic and much less likely to provoke allergic reactions.
Last but not least, it is cheaper! Of course it is cheaper than gold, silver, or even platinum! Stainless steel jewelry is a big return on investment.
Stainless steel jewelry has become more increasingly popular in recent years, especially for men's accessories, like watches, eye wear and bracelets. This looks masculine due to its use in industrial fields. The most popular choice of stainless steel jewelry is men's wedding bands. It looks tough and rugged. Although stainless steel jewelry identical with masculinity, but woman still can wear. There is a lot of women's stainless steel jewelry, like ring, necklace, and earring and it looks as beautiful as other traditional jewelries.
What else can give you the beauty and masculinity of jewelry with good quality and best price, except stainless steel jewelry? So you still doubt to buy stainless steel jewelry?
Shanghai Metal Corporation can actualize the beauty and masculinity of stainless steel jewelry!
As a representative of the metal industry, Shanghai Metal Corporation is one of the leading businesses in the manufacturing of metal products in the global field. We can produce aluminum, stainless steel, copper, shipping containers and other metal products and service. We prioritize the efficient of manufacturing and environmental sustainability.
Guest contributors are welcome at the Alloy Wiki.It is a weekly wiki and guide on alloy information and processing technology, while also about the vast array of opportunities that are present in manufacturing. Our team of writers consists of a Machining Material Supplier / Machinist / Tool and Die Maker, a Biomedical Engineer / Product Development Engineer, a Job Development Coordinator / Adjunct Professor, and a President and CEO of a manufacturing facility.
Link to this article:STAINLESS STEEL IS A NEW FASHION
Reprint Statement: If there are no special instructions, all articles on this site are original. Please indicate the source for reprinting:Alloy Wiki,thanks!^^