Ethiopia, the most populous landlocked country in the world, has taken another promising step to a prosperous future. As the world continues its momentum to shifting from fossil fuels to renewable energies, Ethiopia is determined to not be left behind.
The African country has historically been one of the worst places to live in the world, in terms of standard of living and GDP per capita. However, the country has in recent years looked to its vast amounts of water as a way to boost the economy, namely in the form of hydroelectric dams.
Named 'Gibe III', the dam is by a considerable margin the largest in the country and the largest of its kind in the world. The dam has been built by Italian contractor Salini Impregilo, "What was considered a dream – after years of hard work – has now become a reality"– Pietro Salini, Salini Impregilo chief executive
The dam will have a capacity of 1,870 MW, which will staggeringly almost double the current electricity production of the country. Gibe III will be located on the Omo River, 450km southwest of Addis Ababa, the country's capital city. As the source of a number of rivers including the Blue Nile flowing from its mountains, Ethiopia is known as the "Water Tower of Africa", which would explain the countries stern investment into hydroelectric dams.
"This is a very special day for Salini Impregilo and in particular for me," company chief executive Pietro Salini said in a speech. "What was considered a dream – after years of hard work – has now become a reality."
Gibe III will generate up to 6,500 GWh of electricity a year, increasing the country's production capacity by at least 80%. It is an extension of a greater complex that includes two other hydroelectric dams: Gibe I and Gibe II.
These three dams, along with the Grand Ethiopian Renaissance Dam (GERD), also being built by Salini Impregilo, are part of Ethiopia's ambitious plan to arrive at a generation capacity of 40,000 MW by 2035.
Gibe III is the first dam in Ethiopia to be built using roller-compacted concrete (RCC). Standing at 250m, it is the tallest of its kind in the world, Salini Impregilo says. Its crest length is 630m.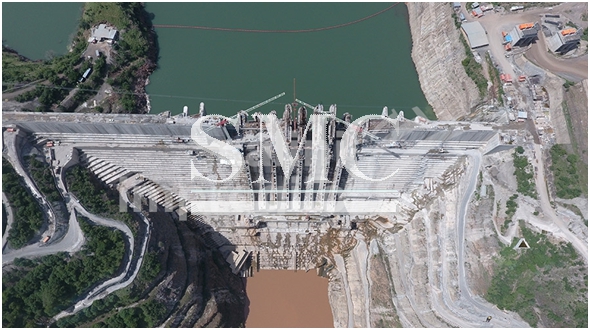 Shanghai Metal Corporation is a trusted aluminum alloy, aluminum foil price, stainless steel price and stainless steel manufacturer, kinds of stainless steel in china.
Guest contributors are welcome at the Alloy Wiki.It is a weekly wiki and guide on alloy information and processing technology, while also about the vast array of opportunities that are present in manufacturing. Our team of writers consists of a Machining Material Supplier / Machinist / Tool and Die Maker, a Biomedical Engineer / Product Development Engineer, a Job Development Coordinator / Adjunct Professor, and a President and CEO of a manufacturing facility.