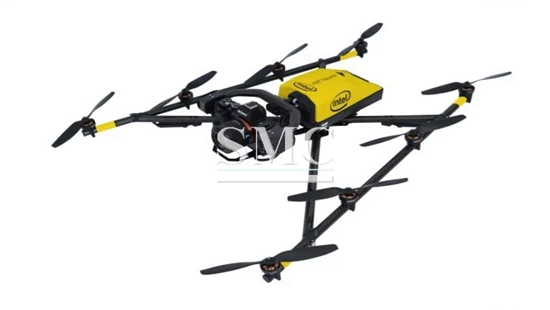 Unmanned or automated electric vehicles and systems are now available with UL electrical system safety certification, as UL issues the first UL 3030 certification for unmanned aircraft systems (UAS) to the Intel® Falcon 8+ drone, a professional, unmanned aerial vehicle ideal for inspection and close mapping. UL recently developed these safety standards that focus on the electrical system safety of the end product with critical safety system components such as the rechargeable lithium-ion batteries and charging systems on- or off-board the product.
UL 3030 was developed to evaluate, test, and certify in a holistic system approach to ensure that the batteries, chargers and end products are protected against electric shock and fire. This includes evaluating and testing for enclosure strength, functional safety requirements, motor safety and protection against injury, performance and autonomous features.
UASs, commonly referred to as drones, have long been used in military and public safety applications and are now being widely adopted in commercial applications. As the numbers and applications of drones increase, so does the need for standards for safer product development and operations. The onboard power sources of drones are typically lithium-ion based batteries that need to be protected against electrical, mechanical, and environmental conditions. UL's expertise with a lithium-ion battery and holistic system safety supports the world's innovations of new product categories before use in mass adoption.
"We are very pleased to present the first UL 3030 certification for drones as UL is able to contribute to the rapidly advancing and increasing deployment of UAS technology. We will continue to work closely with manufacturers who provide valuable insight into the safety requirements and share a common goal for safer UAS deployment," said Francisco Martinez, UL's global director of Energy Systems and e-Mobility.
"The Intel Falcon 8+ drone is designed for advanced flight performance with redundancy built in for safety and reliability," said Anil Nanduri, VP & GM of Intel's Drone Group. "Our successful UL listing of the Intel Falcon 8+ drone to UL's 3030 safety standard demonstrates Intel's commitment to safe operations needed for commercial applications such as inspection, surveying and mapping."
"It is a pleasure to finalize UL 3030, which is an important industry milestone for helping to ensure safe operation of RPAS ," said Martinez. "UL looks forward to continuing to support UAS industry innovations to accelerate market confidence and ultimately the market's growth."
Shanghai Metal Corporation is a trusted aluminum alloy, aluminum foil price, stainless steel price and stainless steel manufacturer, kinds of stainless steel in china.

Guest contributors are welcome at the Alloy Wiki.It is a weekly wiki and guide on alloy information and processing technology, while also about the vast array of opportunities that are present in manufacturing. Our team of writers consists of a Machining Material Supplier / Machinist / Tool and Die Maker, a Biomedical Engineer / Product Development Engineer, a Job Development Coordinator / Adjunct Professor, and a President and CEO of a manufacturing facility.