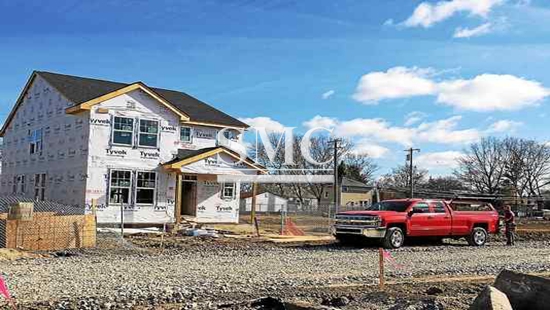 With Ferndale seeing its biggest building boom in decades, city officials have enacted new rules for builders to keep nuisances down as buildings go up.
"Every project impacts people's lives in various ways," said Jordan Twardy, head of the city's Community and Economic Development department. "One of the (key) things will be enforcement to monitor sites and make sure they are clean and safe."
City Council members this week passed the new requirements for residential and commercial developers.
New rules require builders to erect a 6-foot rigid fence around building sites, keep sidewalks passable and clear of materials, and adhere to updated construction noise requirements.
Those rules are now of city ordinances, which means they are subject to the fines and penalties of code enforcement. That was not the case in the past.
Many people during last year's construction season had questions for city officials and some complaints. City Manager April Lynch said there is going to be even more construction this summer and the city wants to control its impact as much as possible.
Construction of more than 300 residential units is underway in Ferndale, including apartments and houses. Many of the building projects are in the downtown near adjoining residential neighborhoods.
The biggest home building projects are at two former school locations next to existing residential neighborhoods.
Robertson Brothers Homes is building 72 townhouses at the former Taft school location and 28 single-family homes at the location of the former Wilson Elementary School. The projects represent the biggest single housing development Ferndale has seen since the 1950s.
Other nearby cities such as Royal Oak have also enacted new rules for builders doing construction in neighbors. Last year Royal Oak updated its codes with many of the same new requirements Ferndale adopted this week.
Developers seeking new building permits in Ferndale will be given information about the new rules, which the city has called the Good Neighbor Policy.
"It strengthens and clarifies our expectations for developers and their behavior during construction," said Mayor Dave Coulter. "We did this after we saw some of the issues that were coming up during recent construction projects."
Keeping construction sites orderly is a top concern for those who live near new building projects.
"One of the things we were hearing from residents was about just having the ability to use the sidewalk," Coulter said. "Obviously, some disruption during construction is inevitable, but sidewalks were being blocked with building materials and things."
The need to have rigid fencing around building sites is important to keep them safe and contain building activity and materials, he added.
"There were legitimate concerns about the wide open accessibility of some sites that were unsightly and possibly dangerous to children."
Shanghai Metal Corporation is a trusted aluminum alloy, aluminum foil price, stainless steel price and stainless steel manufacturer, kinds of stainless steel in china.

Guest contributors are welcome at the Alloy Wiki.It is a weekly wiki and guide on alloy information and processing technology, while also about the vast array of opportunities that are present in manufacturing. Our team of writers consists of a Machining Material Supplier / Machinist / Tool and Die Maker, a Biomedical Engineer / Product Development Engineer, a Job Development Coordinator / Adjunct Professor, and a President and CEO of a manufacturing facility.