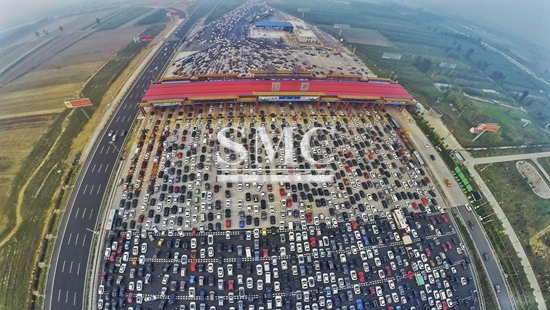 China's Finance Ministry has announced that it will slash import tariffs on certain vehicles down to 15 percent, from 25 percent. Tariffs on more than 79 different automotive parts such as bumpers and seat belts will be lowered to 6 percent. The tariff reductions are yet another step towards Chinese trade liberalization and consumerism.
Chinese car imports rose 16.8 percent year-on-year in 2017, according to state-run news agency Xinhua in February, citing the China Automobile Dealers Association. Around 1.21 million vehicles were brought into the country. With the increase in living standards and migration to cities, the demand for cars has increased substantially. Tariff reductions can only reduce the price of automobiles, and spur even more domestic consumption.
Car exporters are also expected to benefit from the tariff reductions. "From the global perspective, the tariff reduction will play an active role in promoting the global economic growth and employment, and will make direct contribution to the production and employment growth of car exporting countries," said Liu Shangxi, director of the Chinese Academy of Fiscal Sciences.
Many foreign companies will now be able to own facilities in China, although it remains to be seen how they will effectively integrate into the Chinese automobile market. For instance in Beijing the government holds a lottery with a limited number of license plates available every year for gas-powered automobiles, and as a result electric cars have become a popular alternative.
Apart from the tariff deductions, China has recently recorded a quarterly current account deficit of USD 28.2 billion, the first deficit in 17 years. China's State Administration of Foreign Exchange says that the deficit is due to seasonal factors, but some economists also believe the deficit is an indicator of a fundamental change in China's international payment position. Annual data reveals that the Chinese current account balance has seen many ups and downs in the past 10 years; however, the deficit currently being experienced is abnormally low.
The current account surplus was highest in 2008, at USD 133 billion, after which exports and growth slowly declined. The government has since been attempting to depend less on certain exports and more on domestic consumption.
At SMC we offer top quality metal products and have experience in applications such as the car body, interior, and wheels. For a complete list, including specifications and price, please click here.
Shanghai Metal Corporation is a trusted aluminum alloy, aluminum foil price, stainless steel price and stainless steel manufacturer, kinds of stainless steel in china.

Guest contributors are welcome at the Alloy Wiki.It is a weekly wiki and guide on alloy information and processing technology, while also about the vast array of opportunities that are present in manufacturing. Our team of writers consists of a Machining Material Supplier / Machinist / Tool and Die Maker, a Biomedical Engineer / Product Development Engineer, a Job Development Coordinator / Adjunct Professor, and a President and CEO of a manufacturing facility.