Israel, one of the most influential countries in the Middle-East, has finally decided to invest heavy into its solar industry. It's a wonder Israel has taken so long to realize the boundless opportunities presented by solar energy, in an economical sense as well as that of climate change. The country is perfectly suited to the renewable source, in the sense that they are prone to an abundance of sunlight and scorching hot temperatures.
As a symbol of their intentions, they have announced that they will soon begin the construction of a large-scale project, which will incorporate the construction of the world's highest solar tower. Israel has traditionally been heavily reliant on fossil fuels, with renewable energies always being very much an after-thought. However, recent announcements would suggest the tables are turning; their 2020 ambitions have been adjusted to target having 10% energy supply from renewable, as opposed to the initially targeted 2.5%.
The Ashalim project, deep in the Negev desert, is made up of three plots, with a fourth planned for the future, each with a different solar technology. Together, the fields will be Israel's largest renewable energy project when completed by 2018. They are set to generate some 310 megawatts of power, about 1.6 percent of the country's energy needs — enough for about 130,000 households, or roughly 5 percent of Israel's population, according to Israel's Electricity Authority.
"It's the most significant single building block in Israel's commitment to CO2 reduction and renewable energy," said Eran Gartner, chief executive of Megalim Solar Power Ltd., which is building one part of the project.
The centerpiece is a solar tower that will be the world's tallest at 250 meters (820 feet).
Encircling the Ashalim tower are 50,000 mirrors, known as heliostats, in a shimmering blanket of glass over the desert. The tower is so tall because the panels were squeezed together to maximize use of the land — and the closer the panels are the taller the tower must be, Gartner explained.
Another solar-thermal plot at Ashalim will be able to store energy even when the sun goes down. A third plot will use photovoltaic solar technology to produce energy.
Let's hope Ashalim is a success and will pave the way for more renewable development in the country.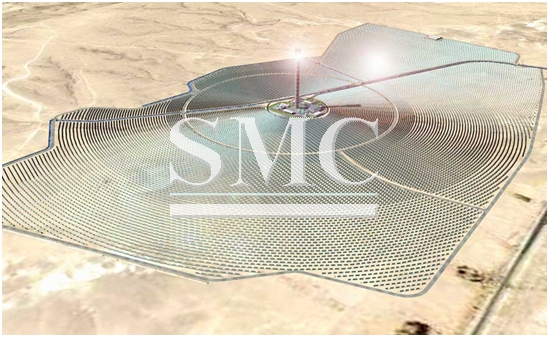 Shanghai Metal Corporation is a trusted aluminum alloy, aluminum foil price, stainless steel price and stainless steel manufacturer, kinds of stainless steel in china.
Guest contributors are welcome at the Alloy Wiki.It is a weekly wiki and guide on alloy information and processing technology, while also about the vast array of opportunities that are present in manufacturing. Our team of writers consists of a Machining Material Supplier / Machinist / Tool and Die Maker, a Biomedical Engineer / Product Development Engineer, a Job Development Coordinator / Adjunct Professor, and a President and CEO of a manufacturing facility.