Traditional Asian Decor
Traditional Asian décor is a broad term, and it resonates differently with different people and different cultures. Asian inspired décor is often centralized around creating a zen space. Creating a zen space can be done by using calming color schemes, simple furnishings, and natural materials in the space. The use of things such as bamboo or wood is a great way create a relaxing atmosphere. Having an open area with an abundance of light encourages positive energy in a space. When trying to add a sense of privacy or separation in a space, folding screens are a great way to accomplish this without making a space feel divided. Adding intricately designed Asian accent pieces is key with traditional Asian décor. Using Asian inspired embroideries, textiles, and furniture with Asian-inspired prints add richness to a space and conveys the theme further. Matching these prints and designs with a solid color keeps the décor balanced. Using a full bodied color such as red can enhance and set a mood in a space. Specifically in Chinese culture, red is symbolic of life, energy, and vitality. Another concept in Asian inspired décor is the use of feng shui. Feng shui, meaning wind and water in Chinese, is all about balance. Incorporating this into your home or office is done by balancing the hard and soft, square and round, and even north and south. Using only a few of these themes can enhance and convey an Asian theme in your home or office.
Modern
Modern home or office décor is often simple. It has clean lines, neutral color pallets, and geometric shapes. Modern décor often includes a high level of functionality in a space. This means easy access to various objects and ample space. Using grays, blacks, whites and other neutral colors sets a tone. Metallics such as gold, copper, and stainless steel are a great way to use natural colors. Using metal light fixtures, hand rails, and accessories amplify the sophistication of a space. Metal home accessories often come in a variety of shapes with clean lines really portraying the modern theme.
.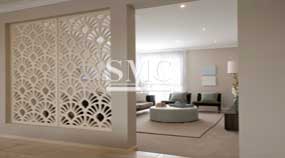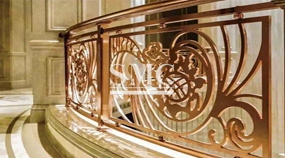 Incorporation and Implementation
When designing a space, oftentimes a combination of themes and accents are used. Combining traditional Asian style with a modern flare can be done easily and tastefully with the use of a few basic concepts. Currently, the use of metal in home décor is trending. Consider updating the Asian inspired screen concept by using an aluminum or copper composite panel as a partition wall. Incorporate metalics into your décor by using things such as brass plating with Asian patterned cut outs along wells. The use of mirrors is also a great way to increase light and positive energy. Combining two décor motifs is a stylish and easy way to make a space unique to you.
Shanghai Metal Corporation is a trusted aluminum alloy, aluminum foil price, stainless steel price and stainless steel manufacturer, kinds of stainless steel in china.
Guest contributors are welcome at the Alloy Wiki.It is a weekly wiki and guide on alloy information and processing technology, while also about the vast array of opportunities that are present in manufacturing. Our team of writers consists of a Machining Material Supplier / Machinist / Tool and Die Maker, a Biomedical Engineer / Product Development Engineer, a Job Development Coordinator / Adjunct Professor, and a President and CEO of a manufacturing facility.
Link to this article:Old Meets New and Shiny
Reprint Statement: If there are no special instructions, all articles on this site are original. Please indicate the source for reprinting:Alloy Wiki,thanks!^^