Technology developed by a Chinese university has been incorporated into the latest phones released by Apple.
The iPhone 8 and iPhone X, which were unveiled on Wednesday, are "precision‑engineered to resist water and dust," according to the company.
That specification was achieved by a university in Dalian, which says its smart robot system for spraying adhesive is key equipment that guarantees the water-proof ability of the new iPhones.
A team at the Dalian University of Technology, in northeastern Liaoning province, developed the smart robot controlling system based on technology it developed.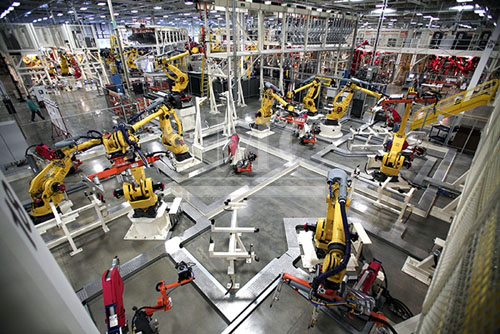 Unlike adhesives applied manually, the robots can automatically select the spray point and accurately calculate the coordinates of the precise location through image measurements.
The process greatly enhances the spray efficiency and ensures the waterproofing effect.
The system is utilized in most of the domestic factories operated by Apple supplier, Foxconn.
The total cost of the equipment has exceeded 170 million yuan ($25.9 million), sources at the university said.
The university team is focusing on the intelligent perception, deep learning, independent decision-making and other key technical problems of robot control in order to provide security and technical support for the application of robot in relevant industries.
Shanghai Metal Corporation is a trusted aluminum alloy, aluminum foil price, stainless steel price and stainless steel manufacturer, kinds of stainless steel in china.
Guest contributors are welcome at the Alloy Wiki.It is a weekly wiki and guide on alloy information and processing technology, while also about the vast array of opportunities that are present in manufacturing. Our team of writers consists of a Machining Material Supplier / Machinist / Tool and Die Maker, a Biomedical Engineer / Product Development Engineer, a Job Development Coordinator / Adjunct Professor, and a President and CEO of a manufacturing facility. Source: chinadaily.com.cn