UVS Intelligence System, a private company in Shanghai, has produced the world's first automatic, amphibious commercial aircraft and started the mass production of its U650 seaplane to enter the market this year. The purpose of the drone is to transport supplies to island and detect submarines. Liu Jiandong, the founder and chairman of UVS, said that they were working with the domestic client to apply for approval from air traffic management authorities of our plan to open a freight route next year using the amphibious drone.
The U650 is 5.85 meters long, it is made of carbon fiber and is able to stay aloft 15 hours, having a speed of 180 km/h and a flight range of 2000 km. It is capable of taking off and landing from unpaved airstrips, grassland or water. It can carry as much as 250 kg and its wings can also carry four weights, such as inflatable life rafts. The drone made its first flight in Central China in December 2015.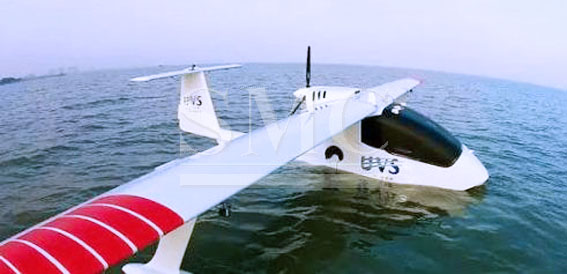 The civilian drone is expected to become a commercial success because it is the only one of its kind that is capable of carrying cargo with a total weight of 200 kg or even heavier. The chairman said that express delivery enterprises on China's southern and eastern coastal areas will find the U650 useful, as the regions are densely populated and have busy airline operations that put many restrictions on drone flights. UVS's drone has a longer ranger than those of small types, so it is not necessary to make stops during a delivery and it will not risk the safety of people or airliners.
Guest contributors are welcome at the Alloy Wiki.It is a weekly wiki and guide on alloy information and processing technology, while also about the vast array of opportunities that are present in manufacturing. Our team of writers consists of a Machining Material Supplier / Machinist / Tool and Die Maker, a Biomedical Engineer / Product Development Engineer, a Job Development Coordinator / Adjunct Professor, and a President and CEO of a manufacturing facility. Amazon and DHL Express have already deployed drones for delivery service on a small and experimental scale, and are continuing to design new models. In addition to couriers, U650 will also be useful to Chinese troops and residents on islands and reefs in the South China Sea, the chairman said.