It's safe to say Mexico and the USA are currently in a rather unfortunate period of their friendship, with the latter about to begin proceedings on building a wall across the border of the two countries to prevent illegal immigration. However, the differences in question are largely being laid out between the two political parties of each country, with much businesses continuing their ongoing relationships and still forming new ones.
Mexico has recently confirmed that they intend on vastly increasing their reliability on, and deployment of wind and solar energy sources. The expansion of wind and solar in Mexico will spell very good news for U.S. equipment manufacturers and service companies whom are keen to expand into newer markets.
This spells particularly good news for California, Gov. Jerry Brown, three years ago singed a climate change pact with Pedro Joaquin, Mexico's secretary of energy. Brown will now be able to build upon these ties, regardless of the anti-climate Trump administration pursuing its border wall initiatives. Solar manufacturers in America are elated at the prospect of surging renewable energy development in Mexico, the world's 15th largest economy.
Gerry Cauley, the head of the North American Electric Reliability Corp., an organization of electric grid operations that oversees the reliability and security of the power system, quietly traveled to Mexico six times over the past 18 months with technical teams to discuss the future of the electric grid within Mexico and its further integration with the power system serving the United States and Canada.
"They have great, aggressive goals," Cauley said.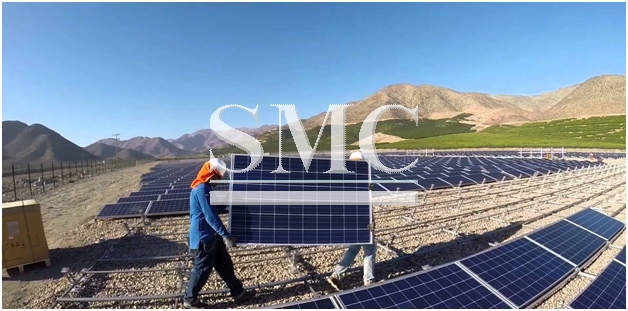 Those goals are allied with robust efforts to create a new, national market for electricity in Mexico that will reward investors and energy users.
"It's a real big promise and commitment made to the citizens of Mexico," Cauley said.
Cauley predicts that the next two decades will see a monumental growth in electricity flows between Mexico and the United States, possibly reaching the equivalent transition of flows between the United States and Canada.
The United States imported 68.5 million megawatt-hours of electricity from Canada in 2015 and we exported 8.7 million megawatt-hours of electricity there, according to the U.S. Energy Information Administration. In comparison, we imported 7.3 million megawatt-hours from Mexico and exported 392,000 megawatt-hours to our southern neighbor.
Mexico's grid modernization, assisted by U.S. companies, is already well under way, including a $1.7 transmission project linking wind-rich Oaxaca with Mexico City.
Guillermo Zuñiga, commissioner of the Mexico Energy Regulatory Commission, said his country plans to increase its solar power generation 25-fold in coming years, potentially surpassing all the solar generation now deployed across California, and expand its wind generation five-fold.
"We are a big economy, we are a big country and we have big energy needs," he said.
"Together, we are much more reliable," Cauley said. "As wind and solar come on, there is a great opportunity for two-way exchanges."
Shanghai Metal Corporation is a trusted aluminum alloy, aluminum foil price, stainless steel price and stainless steel manufacturer, kinds of stainless steel in china.
Guest contributors are welcome at the Alloy Wiki.It is a weekly wiki and guide on alloy information and processing technology, while also about the vast array of opportunities that are present in manufacturing. Our team of writers consists of a Machining Material Supplier / Machinist / Tool and Die Maker, a Biomedical Engineer / Product Development Engineer, a Job Development Coordinator / Adjunct Professor, and a President and CEO of a manufacturing facility.